Features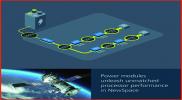 NewSpace demands low voltage, high current power for performance and longevity - Nov 2022
Matt Renola, Senior Director, Global Business Development – Aerospace & Defense
More details...
Power Electronics Europe News
New Innoswitcher from Power Integrations
94%-Efficient Offline Flyback Switcher IC Family
Power Integrations announced on Septmber 12 the release of its InnoSwitch™3 family of offline CV/CC flyback switcher ICs. The new devices achieve up to 94 % efficiency across line and load conditions, slashing power supply losses by a further 25 % and enabling the development of compact power supplies up to 65 W without heatsinks. InnoSwitch3 devices are intended for power supplies with challenging energy consumption, footprint or thermal constraints, particularly those targeting mandatory Total Energy Consumption (TEC) specifications.
The InnoSwitch3 IC family is optimized into three application-specific series:
CE: Current External. Includes accurate CC/CV regulation with external output current sense for optimum design flexibility. Targets compact single-voltage chargers, adapters, IoT and building automation.

CP: Constant Power. Ideal for USB Power Delivery (PD), rapid charging and other applications where a dynamic output voltage is required.

EP: Embedded Power. Features the family's highest-rated MOSFET (725 V) and provides full line and load protection with excellent multi-output cross-regulation for demanding industrial applications and appliances.
These flyback switcher ICs employ isolated digital communications technology, called FluxLink™, plus synchronous rectification, quasi-resonant switching and a precise secondary-side feedback sensing and control circuit. This results in highly efficient, accurate, reliable power supply circuits without the need for optocouplers. InnoSwitch3 devices are CCC, UL and VDE safety-certified to bridge the isolation barrier, and the InSOP™-24 package provides a low-profile, thermally efficient solution with extended 11.5 mm creepage and clearance between primary and secondary sides for high reliability, surge and ESD robustness. The new devices also incorporate protection features, including lossless line over-voltage and under-voltage, output overvoltage, over-power, over-current and over-temperature protection, as well as output rectifier short-circuit protection.
InnoSwitch3 ICs feature on-chip high-voltage MOSFETs (rated at 650 V for the CP and CE series and 725 V for the EP series).
More in our upcoming October issue and at www.power.com/products/innoswitch/.