Features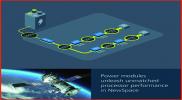 NewSpace demands low voltage, high current power for performance and longevity - Nov 2022
Matt Renola, Senior Director, Global Business Development – Aerospace & Defense
More details...
Power Electronics Europe News
Single output power supplies are compact
The single output power supplies in the PSY300 series measure 3.0 x 5.0-inches and provide up to 300W across an operating range of -30 to 85⁰C. The seven models in the series are open PCB units.
The supplies operate from a 90 to 264V AC input range with active power factor correction, and provide output voltages from 12 to 54V DC with output currents from 3.70 to 16.67A convection cooled and from 5.55 to 25A with fan cooling. A 12V, 0.3A fan supply is a standard feature. The company can also supply models with output voltages from 9.0 to 57V DC, still within the safety approvals, but subject to minimum order quantities.
The AC/DC converters are efficient, up to 92%, and feature a no load power consumption figure of 0.25W without fan and integral LED power indicator.
The power supplies are protected against short circuit, over-current, over-voltage and over-temperature and feature remote sense and power fail signal.
The modules in the series meet all relevant EMI radiated and conducted standards and have a number of safety approvals including CE, CB EN60950-1 and UL/cUL60950-1
View PDF