Features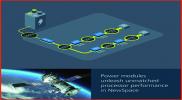 NewSpace demands low voltage, high current power for performance and longevity - Nov 2022
Matt Renola, Senior Director, Global Business Development – Aerospace & Defense
More details...
Power Electronics Europe News
Super-junction power modules simplify motor drive design
T
he
nano-intelligent power modules (IPMs) integrate additional components to accelerate development and simplify assembly of motor drives from very low power up to 300W.
The 3.0 and 5.0A modules contain 600V super-junction MOSFETs to maximise energy efficiency in compressors, fans, pumps, and other appliances. The 3.0A STIPQ3M60T-HL is offered in inline package and the STIPQ3M60T-HZ has zig-zag leads to save space and reduce pin separation. There are optional built-in slots for easy mounting of economical heatsinks, while separate open-emitter outputs ease PCB routing for single- or three-shunt current monitoring.
Each IPM contains a three-phase, half bridge comprising six MOSFETs, with gate drivers implemented as high-voltage ICs. For protection and fault prevention, additional integrated features include an uncommitted op-amp for current sensing, a comparator for high-speed fault protection, and an optional negative temperature co-efficient (NTC) thermistor for temperature monitoring. There is an integrated bootstrap diode to simplify board layout. Smart-shutdown circuitry protects the power switches, and under-voltage lockout (UVLO) prevents malfunction with low Vcc or Vboot.
The super-junction MOSFETs have low on-resistance, down to 1.0 or 1.6Ω (maximum) at 25°C, as well as low capacitances and gate charge to minimise both conduction and switching losses. This enhances efficiency in hard-switching circuits operating up to 20kHz, which includes a variety of industrial drives, and allows heatsink-free operation in low-power applications. Switching di/dt and dV/dt ensure low EMI, says the company, to simplify circuit design and layout.
The nano-IPMs are specified up to maximum operating junction temperature of 150°C and are UL 1557 recognised, providing up to 1500Vrms/min of isolation.
View PDF