Features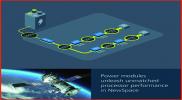 NewSpace demands low voltage, high current power for performance and longevity - Nov 2022
Matt Renola, Senior Director, Global Business Development – Aerospace & Defense
More details...
Power Electronics Europe News
Infineon, IBM, GreenCom and icentic join forces to protect intelligent power
Digitalisation and distributed power generation is changing energy systems, as solar photovoltaic assets, electric vehicles, electrical heating and cooling or battery storage all have to be connected into an intelligent power system. They must also be protected against security threats. At the event in Amsterdam (3-5 October 2017), the partners will demonstrate a prototype based on Infineon's OPTIGA embedded security chips and built in icentic's ICEHUB connectivity products to authenticate devices that are connected to the Energy Internet of Things (IoT) platform of GreenCom.

Traditionally, solar photovoltaic inverters, heat pumps or batteries are not designed to be digitally connected for monitoring, control and analytics purposes; doing so can leave them open to security threats.

IT security is seen by energy supplies as the greatest challenge for a digitalised energy infrastructure.
Despite
access to data occurring at the infrastructure level as well as in the back-end,
the
majority of the connected devices are not properly secured. Attackers could be enabled to remotely compromise the device completely, control its flow of power and even cause a shut-down of the energy network.

The partners address utilities and energy service companies that aim to offer new digital energy services to customers in a secure way. They also target device manufacturers that either want to embed security into their energy-relevant assets from the beginning or plan connectivity and security upgrades to enable additional value-added services of their installed devices.

GreenCom Networks' Energy IoT platform integrates analytical skills from IBM to forecast and optimise the usage of connected assets. IBM's Hybrid Intelligence capabilities combine big data analytics, defined hardware-based security at the edge and GreenCom's platform back-end. icentic supplies and manages the required ICEHUB connectivity to connect distributed devices in a future-proof and secure way. The embedded security of the OPTIGA family helps to securely authenticate the connected devices as well as to secure data transmission.
View PDF