Features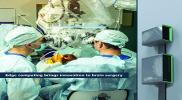 Edge Computing Leverages Modular Power in Scalable Micro Data Centres - May 2022
Edge computing is essential to realizing the full potential of artificial intelligence (AI), machine learning and internet of things (IoT). These technologies are being infused into every corner of...
More details...
Power Electronics Europe News
Intel-compliant modules suit high density regulators
The AOZ5166QI-01 is designed for high power density voltage regulators for servers, workstations, graphic cards and desktop PC applications.
The 40pin, 6.0 x 6.0mm QFN package integrates an optimised dual gate driver and two MOSFETs, to produce a high efficiency DC/DC synchronous buck power stage, claims the company.
The company's proprietary trench MOSFET and packaging technologies contribute to efficiency and thermal performance, reduce switching loss and lower power dissipation for a higher current driving capability. The low RDS (ON) of low-side MOSFET combined with the low Qg high-side MOSFET balances switching and conduction losses to increase overall efficiency by 1%.
The module is available immediately in production quantities. Options are minimum VIN of 4.5V and maximum VIN of 16V (AOZ503QI-01) or 25V for the other four modules in the series. PWM logic is 3.3V (AOZ5036QI-01, AOZ5066QI-01 and AOZ5049QI) or 5.0V (AOZ5066QI and AOZ5049QI).
View PDF