Features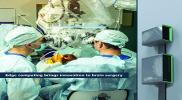 Edge Computing Leverages Modular Power in Scalable Micro Data Centres - May 2022
Edge computing is essential to realizing the full potential of artificial intelligence (AI), machine learning and internet of things (IoT). These technologies are being infused into every corner of...
More details...
Power Electronics Europe News
DC/DC buck converters minimizes component count
The AP3401 and AP3428 DC/DC step-down converters drive up to 1A with line- and load-regulation provided by a constant-frequency PWM control that requires no external compensation to minimize component count and material costs.

The low power consumption and efficient light load are designed for set-top boxes, TVs, routers, Wi-Fi modules and security systems.
They operate from an input voltage between 2.5 and 5.5V, making them suitable for use with a single Li /Li-polymer cell, multiple Alkaline/NiMH cells and other power sources. They deliver an output voltage from 0.6V up to the full input voltage with an output current up to 1A. The high-current and low-dropout threshold performance is achieved with integrated ultra-low RDS(ON) MOSFETs and the ability to operate at 100 per cent duty cycle with a switching frequency up to 1.5MHz. The AP3401 also has a power-good output.

An integrated soft-start reduces start-up current spikes to avoid system damage when switching power on or off. Other protection features are over-current, under-voltage lockout and over-temperature with thermal shutdown. The DFN2020 package has exposed pads for power handling in thermally demanding consumer applications.
View PDF