Features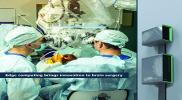 Edge Computing Leverages Modular Power in Scalable Micro Data Centres - May 2022
Edge computing is essential to realizing the full potential of artificial intelligence (AI), machine learning and internet of things (IoT). These technologies are being infused into every corner of...
More details...
Power Electronics Europe News
Isolated current transducers save space in harsh conditions
The GHS components offer full isolation despite their small size, claims the company, integrating the primary conductor for nominal current measurements of 10, 12, 16 or 20A with a measurement span of 2.5 times the nominal current. They are also able to support high overload currents up to 200A peak for short durations of 1.0ms.
The transducers are mounted directly onto a PCB as an SO8 SMD device, reducing manufacturing costs and providing space saving for space-constrained applications.
They can be used as low resistance primary conductors (minimising power losses) within an ASIC to allow direct current measurement and consistent insulation performance. At the same time, they provide high creepage and clearance distances.
All the models in the series provide a ratiometric analogue voltage output with different sensitivity levels from 40 to 80mV/A according to the model, with a typical response time of 5.0micro sec.
The transducers are not simple open loop Hall-effect ASIC-based transducer, says the company, they have been designed with primary integrated conductors for gradient measurement to provide immunity against the external fields found in power electronic applications.
The design combnes spinning, programmable internal temperature compensation (EEPROM) which is claimed to provide accuracy over the full temperature range of -40 to 125°C, with a maximum 1.3% offset drift and 1.5% gain drift. Operation is from a single 5.0V supply.
View PDF