Features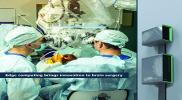 Edge Computing Leverages Modular Power in Scalable Micro Data Centres - May 2022
Edge computing is essential to realizing the full potential of artificial intelligence (AI), machine learning and internet of things (IoT). These technologies are being infused into every corner of...
More details...
Power Electronics Europe News
MOSFETs in wide creepage package introduce 1500V device
The TO-220FP wide creepage package can be used for the power transistors of open-frame power supplies, commonly used in TVs and PCs, which are vulnerable to surface contamination by dust and particles that can cause high-voltage arcing between transistor terminals.

The package's extended lead spacing of 4.25mm eliminates the special potting, lead forming, sleeving, or sealing needed to prevent the arcing when using conventional packages with 2.54mm lead spacing. According to STMicroelectronics the package provides superior arcing resistance and retains the electrical properties of the TO-220FP. Similar outer dimensions help streamline design-in and ensure compatibility with established assembly processes.
The company developed the package by collaborating with its customer SoluM. The product portfolio includes four fully qualified 600V low-RDS(ON) MDmesh M2 MOSFETs with current ratings from 8.0 to 34A. The 1500V STFH12N150K5 and 1200V STFH12N120K5, MDmesh K5 devices, will be qualified by the end of Q3 2016.
View PDF