Features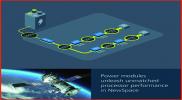 NewSpace demands low voltage, high current power for performance and longevity - Nov 2022
Matt Renola, Senior Director, Global Business Development – Aerospace & Defense
More details...
Power Electronics Europe News
Encapsulated DC/DC converter modules can be chassis-mounted
The Traco Power modules feature wide input voltage ranges of 9.0 to 36V DC and 18 to 75V DC and are available with fixed 5.1, 12, 24 and 48V DC output voltages in 20, 40 or 60W ranges.

The modules are designed for chassis mounting and have a screw terminal block. There is an optional bracket which allows for DIN-rail mounting. Efficiency is up to 91% and, according to the company, the use of high grade components, enables the modules to operate at -40 to 90°C.

Modules do not need a minimum load and offer a high efficiency also at low load conditions, says the company. A remote control input and a green LED to indicate the presence of the output voltage are features, together with EMC characteristics and safety certifications permitting use in industrial and consumer applications.
View PDF