Features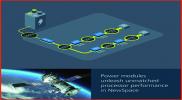 NewSpace demands low voltage, high current power for performance and longevity - Nov 2022
Matt Renola, Senior Director, Global Business Development – Aerospace & Defense
More details...
Power Electronics Europe News
Switch IC is accurate in non-isolated, offline applications
They are designed for
non-isolated applications with up to 360mA output current and can be configured as a buck, buck-boost or a non-isolated flyback converter.
Safety features include input and output over-voltage protection and a MOSFET with a 725V breakdown voltage, offering output short-circuit and over-temperature protection against line surges and swells. The ICs are suitable for appliances, HVAC, industrial, home automation, IoT, and metering systems worldwide, particularly, says the company, in geographies with challenging power grid stability.
Voltage regulation is better than ± 3%, a level that eliminates the need for post regulators to reduce bill of materials and to reduce size. According to the company, the IC requires just 20 additional components to complete a buck converter, and may be configured to use off-the-shelf inductors, further reducing cost and supply chain complexity.
The ICs can be used in low-power applications, i.e. above 80 % in 12V, 120mA (1.4W) buck designs for example. The IC designs consume less than 30mW no-load in a buck arrangement and less than 10mW when configured as a non-isolated flyback. Using the ICs, manufacturers can design power supplies to meet worldwide product energy-efficiency requirements from the US DoE, EC ErP Ecodesign Directive, California Energy Commission (CEC) and Energy Star.
There are three package options - PDIP-8C, SO-8C, and SMD-8C.
View PDF