Features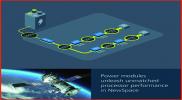 NewSpace demands low voltage, high current power for performance and longevity - Nov 2022
Matt Renola, Senior Director, Global Business Development – Aerospace & Defense
More details...
Power Electronics Europe News
Bluetooth module can reduce size of IoT, wearable devices
The
low energy system-in-package (SiP) module has a built-in chip antenna, and enables developers to miniaturise IoT designs by minimising the PCB footprint including the antenna clearance area to 51mm2, says the company. Applications include sports and fitness wearables, smartwatches, personal medical devices, wireless sensor nodes and other space-constrained, connected devices.
The module is based on the company's Blue Gecko wireless SoC and features an ARM Cortex-M4 processor, high-output Bluetooth power amplifier, onboard antenna, external antenna options, oscillators and passives. There is also a reliable, secure Bluetooth 4.2 stack and development tools. The BGM12x module's level of integration frees developers from the complexities of RF system engineering, protocol decisions and antenna design, says the company. It can be used in space-sensitive, battery-powered applications including low-cost, two-layer PCB designs.
The BGM12x module allows developers the flexibility to begin with a module-based design and transition to a Blue Gecko SoC with minimal system redesign and full software reuse. Blue Gecko SoCs will be available in a 3.3 x 3.14 x 0.52mm wafer-level chip-scale package (WLCSP).
The module is pre-certified to minimise development costs and RF regulatory compliance effort. All application code can be executed on the module, eliminating the need for an external MCU.
The company also offers a Bluetooth 4.2 stack, development tools and data sheets.
A wireless software development kit can enable host or fully standalone operation through the Bluegiga BGScript scripting language or with the ANSI C programming language. The development kit has been upgraded to support new Bluetooth 4.2 features such as LE Secure Connections, LE Packet Extensions and LE dual-topology.
BGM12x modules are available with different transmit output power options, from 3dBm (BGM123) to 8dBm (BGM121).
View PDF