Features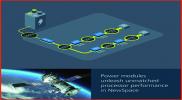 NewSpace demands low voltage, high current power for performance and longevity - Nov 2022
Matt Renola, Senior Director, Global Business Development – Aerospace & Defense
More details...
Power Electronics Europe News
Three DC/DC converters save space in powering gate drive circuits
The 6W high isolation DC/DC converters simultaneously powering high-side and low-side gate drive circuits for IGBTs, and Si/SiC MOSFETs in bridge circuits.
The dual, triple and quad independent outputs are externally configurable, via a circuit which provides positive and negative voltages for gate drive power. Using one device for powering all gate drives in a bridge application is estimated to save between 33 to 50% of space.
In a three-phase bridge, the quad-output MGJ63P provides isolated power for the three high-side switch drivers and a common rail for the three low-side switch drivers. This could replace up to six discrete DC/DC converters, says the company.
The converters have a 2:1 input voltage range with nominal inputs of 5.0, 12, and 24V. Two, three, or four output channels of 24V provide high isolation between outputs, which can also be connected in parallel or series. The converters are suitable for DC link voltages up to 3kV DC and feature a characterised dV/dt immunity of 80kV/µs and a characterised partial discharge performance to prolong life.
Constructed using a planar transformer, the converters have short circuit and overload protection and a low coupling capacitance of typically 15pF to reduce system EMI. There is a frequency synchronisation pin to simplify EMC filter design, and an enable pin for power saving.
UL60950 recognition for reinforced insulation is pending, together with approvals for ANSI/AAMI ES60601-1, two MOOPs, and two MOPPs at different system voltage levels.
View PDF