Features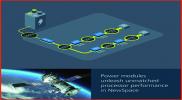 NewSpace demands low voltage, high current power for performance and longevity - Nov 2022
Matt Renola, Senior Director, Global Business Development – Aerospace & Defense
More details...
Power Electronics Europe News
Collaborative PCB Design Solution
Mentor Graphics Corporation now offers a new Xpedition® multi-board systems design software which enables concurrent multi-discipline team collaboration to manage increasing system complexity. The Xpedition flow optimizes team efficiency by eliminating redundant effort during the design process, and product performance as well as reliability with a data management infrastructure. This ensures data integrity and leverages reusable IP across all boards, connectors, and cables in the system.
Designing systems that contain multiple interconnected boards (connectors and/or cables) has traditionally been done with separate uncoupled board and cabling projects held together by desktop office tools such as spreadsheets for intra-board connectivity, text files for system element parameters and drawing applications to show block level system structure and hierarchy. The result is poor collaboration between cross-domain design teams; costly intra-system connectivity errors; extensive time-consuming manual validation steps; and restrictive system change rules that prohibit system design optimization. This lack of holistic multi-board system design further impacts the ability to design networks of interconnect electronic systems, commonly known as system-of-systems that are commonly seen in automotive or industrial automation.
The automated synchronization between all levels of abstraction and automated connector management will help design teams achieve time-to-market targets. Signal tracing, functional and signal integrity simulation, and design partitioning and re-partitioning while maintaining connectivity content ensures "correct by construction" system design. The new Xpedition flow is a fully parallel collaborative design environment where global teams can work in "real-time". "The management of electronics connectivity is immensely complex and a key challenge for systems architects today, yet this problem hasn't been adequately addressed previously," stated Laurie Balch, chief analyst, Gary Smith EDA. "Mentor Graphics has a leg-up in the market with its robust solution for multi-board systems development based on its experience in systems design and analysis technologies."
Recently Gemany-based Siemens AG and Mentor Graphics announced that they have entered into a merger agreement under which Siemens will acquire Mentor for $37.25 per share in cash, which represents an enterprise value of $4.5 billion. The offer price represents a 21 % premium to Mentor's closing price on November 11, 2016. Mentor had over 5,700 employees and generated revenue of approximately $1.2 billion with an adjusted operating margin of 20.2%. Siemens expects these attractive margins to continue in the future and contribute significantly to the Product Lifecycle Management (PLM) software business of Siemens Digital Factory (DF) Division, which Mentor will join. Mentor serves a large, diverse customer base of marquee systems companies and IC/semiconductors companies with over 14,000 global accounts across communications, computer, consumer electronics, semiconductor, networking, aerospace, multimedia, and transportation industries. "Siemens is acquiring Mentor as part of its Vision 2020 concept to be the Benchmark for the New Industrial Age," said Joe Kaeser, President and CEO of Siemens AG. "With Mentor, we're acquiring an established technology leader with a talented employee base that will allow us to supplement our world-class industrial software portfolio. It will complement our strong offering in mechanics and software with design, test and simulation of electrical and electronic systems," said Klaus Helmrich, member of the Managing Board of Siemens.