Features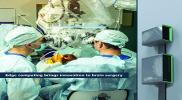 Edge Computing Leverages Modular Power in Scalable Micro Data Centres - May 2022
Edge computing is essential to realizing the full potential of artificial intelligence (AI), machine learning and internet of things (IoT). These technologies are being infused into every corner of...
More details...
Power Electronics Europe News
Switcher ICs are optimised for consumer products efficiency
The

off-line CV/CC flyback switcher ICs

use the company's magneto-inductive coupling technique, FluxLink, which enables precise switching control of both primary and secondary MOSFETs without unreliable optocouplers. This topology provides efficient synchronous rectification without the risk of shoot-through during transient loads or line surges. The technique also exhibits cross-regulation, which often permits the elimination of DC/DC converter stages in multi-output designs, to enhance power sub-system efficiency and reduce system cost.

The ICs target adapters and chargers for smart mobile products as well as open-frame power supplies for set-top boxes, computer monitors and other consumer audio-visual and entertainment products. They consume less than 10mW no-load and minimise the energy wasted in low-power standby or sleep modes.

An on-chip 650V MOSFET has line over-voltage and under-voltage monitoring, which protects against line surges and swells. Devices support multiple outputs with an accurate external current sense.

The devices exceed all international energy-efficiency standards such as Energy Star, California Energy Commission, European Union Code of Conduct (CoC) Version 5, Tier 2, and the US Department of Energy standards (DoE 6). Devices are UL1577 and TUV (EN60950) safety-approved and EN61000-4-8 (100 A/m) and EN61000-4-9 (1000 A/m) compliant.

Six devices are available, delivering between 12 and 25W of output power for USB Type-C chargers and consumer electronics such as set-top boxes.
View PDF