Features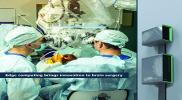 Edge Computing Leverages Modular Power in Scalable Micro Data Centres - May 2022
Edge computing is essential to realizing the full potential of artificial intelligence (AI), machine learning and internet of things (IoT). These technologies are being infused into every corner of...
More details...
Power Electronics Europe News
Buck converter powers USB Type-C transceivers for battery devices
Designers of USB Type-C small form factor devices can create always-on rails with the low quiescent current MAX77596 buck converter, says the company.

Portable gadgets, such as tablets, notebooks, cameras, and drones, can evolve to Type-C using the power supply. Previously, customers designing in a power supply for USB Type-C port controllers had to compromise on either input voltage range, quiescent current, or size.
Products that use the high data rates and increased power transfer capability of USB Type-C ports will require low-voltage supply rails to power Type-C port controllers. Devices using the Power Delivery (PD) voltage range (5.0 to 20V) can now generate an always-on (1.8, 3.3, 5.0V) digital supply rail for the controller using the MAX77596. Operating from as little as 3.5V and up to 24V, the step-down converter can regulate from traditional 5V USB power as well as the 20V upper-end of the PD range.

Replacing a two-chip solution of a low input voltage linear regulator in parallel with a higher input voltage switcher to cover the wide voltage range, the converter combines wide input voltage range, low quiescent current, in a
2.0 x 2.5 x 0.75mm 10pin
TDFN package to reduce design time and a smaller form factor.

There are fixed 3.3 and 5.0V-output versions, and an adjustable version that allows users to program the output voltage between 1.0 and 10V with a resistor-divider. The converter can support up to 300mA DC loads. The IC has short-circuit and thermal protection, 6.67ms internal soft-start minimising in-rush current, proven current-mode control architecture, and up to 42V input voltage tolerance.


View PDF