Features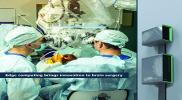 Edge Computing Leverages Modular Power in Scalable Micro Data Centres - May 2022
Edge computing is essential to realizing the full potential of artificial intelligence (AI), machine learning and internet of things (IoT). These technologies are being infused into every corner of...
More details...
Power Electronics Europe News
Dimming interface IC save up to 70% component count and board space
According to the company, it can reduce the component count and PCB space needed for dimming circuitry in LED lighting applications by up to 70%. It is, says the company, the industry's first single-chip lighting interface IC capable of transforming an analogue 0 to 10V input into a PWM or dimming input signal required by a lighting controller IC. The signal is delivered as 5mA optocoupler-ready PWM signal with 0 to 100% duty cycle.
It can be used across a variety of different commercial and industrial LED lighting applications, using a one-time configuration of key parameters such as minimum duty cycle (one to 10%t), PWM output frequency (200Hz to 2kHz), dimmer/resistor bias current (50 to 500μA) and 'dim-to-off' functionality. Furthermore, with 'dim-to-off' enabled the IC also provides the option of accepting PWM input signals.
It is supplied in a miniature, 6pin SOT package, for use on small PCBs with high component densities. A supply voltage of 11 to 25V means compatibility with all common LED lighting applications, including luminaires, troffers, downlights, sconces, office lighting and signage.
Engineering samples, a demoboard and a configuration board are available now.
View PDF