Features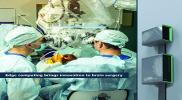 Edge Computing Leverages Modular Power in Scalable Micro Data Centres - May 2022
Edge computing is essential to realizing the full potential of artificial intelligence (AI), machine learning and internet of things (IoT). These technologies are being infused into every corner of...
More details...
Power Electronics Europe News
LED driver ICs keep low profile for thin mobile devices
The ARC1C0608 is an LED driver that is able to save 0.5W (in a typical 2W host platform) when deployed in backlights for smart mobile devices, like tablets. In this way, the company believes the IC will enable a new generation of low power, long battery life, ultra-thin devices.
The company, a spin-out of MIT, produces ICs featuring TIPS (Transformative Integrated Power Solution) a patented, staged pipeline architecture that effectively reduces dependence on inductance, inherently lowers EMI and ripple and enables low profiles with what it claims is industry-leading power conversion efficiency performance for mobile computing and data centres.

The ARC1C0608 LED driver has six integrated programmable current sinks and integrates all MOSFETs and control and driver circuitry. It also features dimming options within a tiny WLCSP-35 package. The TIPS boost architecture delivers LED efficiency levels of 93.5% peak for up to six LED strings at 3.8V input voltage.

The architecture delivers an efficiency which increases as platform packaging profiles reduce, says the company. For example, with a 1mm inductor it is 10% more efficient than leading competitors, halving the losses in the boost converter, and extending battery run-time in tablets by about one hour.

The LED driver runs off a single cell Li-Ion battery input voltage of 2.7 to 5.5V and delivers up to 30V output for maximum flexibility in the assignment of LEDs to strings and selection of LED forward voltage. The IC includes extensive fault protection including over-current, output over-voltage and under-voltage protection, LED open and short protection (eliminating the need for an external disconnect switch). An I²C 6.0-compatible serial interface operating at up to 1MHz is included.

The IC facilitates linear, PWM, or hybrid PWM dimming, with either linear or logarithmic function. Phase-shifted PWM dimming can be employed among active strings to eliminate audible noise.

The LED driver is sampling now.
View PDF