Features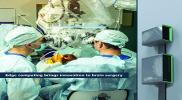 Edge Computing Leverages Modular Power in Scalable Micro Data Centres - May 2022
Edge computing is essential to realizing the full potential of artificial intelligence (AI), machine learning and internet of things (IoT). These technologies are being infused into every corner of...
More details...
Power Electronics Europe News
PI's InnoSwitch meets IGBT Modules
At APEC PEE discussed market challenges with Balu Balakrishnan, President and CEO of Power Integrations (www.power.com), who acquired Swiss IGBT-driver CT-Concept and SiC company Semisouth around two years ago. The first deal turned out to be a success, the second failed. The company now plans to bring its Power IC technology into the IGBT world with the help of its successful acquisition.
While not satisfied with FY 2015 results, I believe we exited the year on an improving trajectory. The outlook we issued in February for the first quarter of 2016 called for two-percent year-over-year growth fueled particularly by new products such as InnoSwitch. While our revenues and earnings fell in 2015 against a challenging economic backdrop, cash flows increased from the prior year, and we returned a substantial amount of cash to investors while also making important investments to support future growth. We also demonstrated the high potential of our new InnoSwitch products, which have garnered a significant share of the "rapid" charger market for smartphones and are now making inroads in other applications. I believe not only that InnoSwitch will be our next flagship product family for the AC/DC power-supply market, but that the technological breakthroughs embodied in these chips will be the foundation of a mega product cycle, spawning products for a wider range of power-conversion applications and driving a significant expansion of our addressable market in the years ahead.
InnoSwitch was really driven by further integrating the power supply. Since we were integrating the high-voltage part of the power supply for almost 25 years, it became very clear that there is nothing more to integrate on the primary side. The only components left outside are the energy storage components such as inductors, capacitors and EMI devices, which all can not be integrated. That's why we set up a brainstorming week in order to find solutions for the secondary side isolation and coupling replacing an optocoupler which degrades over time, but more importantly also to save cost. Finally we came to the idea of using the "parasitic" inductance of the bond wires (which can be manufactured repeatable) and leadframe, in particular optimizing its physical layout. Our VP of development made a few calculations and confirmed that this approach of insulating the primary from the secondary side and also transmit signals between them might work, but it took a lot of hard work to make this now called FluxLink work reliably. In other words, to make innovations happen, you have to take risks!
InnoSwitch ICs are now being designed into higher-margin industrial and consumer-appliance applications, and we plan to introduce next-generations (see also our APEC review), which I believe will not only expand the market by addressing higher power applications, but also improve the cost-effectiveness by utilizing a new, higher-density process technology. Fueled largely by the success of InnoSwitch products in rapid-charging applications for smartphones, revenues from the communications market grew more than 20 percent in 2015.
I see this as an important harbinger for two reasons: First, I believe the growth in communications is more than a one-year story. Rapid-charging emerged as a disruptive force in the mobility market, creating a need for high-value integrated solutions in a market where commodity discrete designs had become predominant. InnoSwitch products fulfill the needs of this market, and we are winning a sizeable share, with designs now in production at many top-tier smartphone OEMs. We believe rapid-charging will be a growth driver for years to come as power levels continue to rise, charging speed becomes an important differentiator in mobile devices, and new technologies such as USB-PD and type-C connectors come to market. Second, as successful as we've been in chargers, we believe the technology may prove even more attractive in embedded power supplies, where efficiency specifications tend to be more challenging and where reliability is often the most important consideration due to the high repair and replacement cost of many end products. We now have designs in progress across dozens of applications, including appliances, consumer electronics and industrial applications. More in our upcoming April issue. AS