Features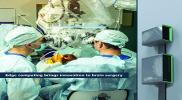 Edge Computing Leverages Modular Power in Scalable Micro Data Centres - May 2022
Edge computing is essential to realizing the full potential of artificial intelligence (AI), machine learning and internet of things (IoT). These technologies are being infused into every corner of...
More details...
Power Electronics Europe News
Medical power supplies suit space-constrained applications
They deliver up to 65W from a compact outline (91.4 x 60.5mm) with bolt-down tabs, and 33.3mm high. The supplies have a five-year manufacturer's warranty.

Suitable for Type II built-in applications, the enclosed power supplies are certified to the medical safety standard IEC 60601-1 3rd edition and have 4000V isolation and 8mm creepage/clearance meeting the specification for 2xMOPP (Means of Patient Protection) at 250V AC. The outputs have less than 75µA leakage current and are BF (Body Float) rated for applications that come into contact with the patient.

By meeting the highest requirements for patient safety, these units can be used in numerous types of equipment, including therapy systems and patient-connected monitoring systems.
Both 40 and 65W types are available with a single DC output voltage of 5.0, 12, 15, 24 or 48V, with 10% trimming range and tolerances of less than ±0.2% over the entire input voltage range and less than ±0.5% over the entire load range. No minimum load is specified, and the units are able to operate over a wide ambient temperature range of -40 to 85°C.
View PDF