Features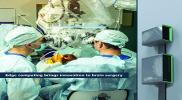 Edge Computing Leverages Modular Power in Scalable Micro Data Centres - May 2022
Edge computing is essential to realizing the full potential of artificial intelligence (AI), machine learning and internet of things (IoT). These technologies are being infused into every corner of...
More details...
Power Electronics Europe News
Development board prepares for AirFuel standard
Efficient Power Conversion (EPC) announces the EPC9065 development board that can serve as the amplifier stage for AirFuel Alliance Class 4 and Class 5 wireless power transfer applications. This zero voltage switching (ZVS) differential-mode class-D amplifier development board is configured at, but not limited to, 6.78MHz, the lowest ISM (industrial, scientific and medical) band.

The board includes all the critical components, including two screw-mounted heatsinks for increased power capability. It can be easily connected into an existing system to speed time to market.

The board has the EPC2007C and EPC8010 100V GaN FETs. The EPC2007C is used in the Class-D amplifier while the EPC8010 is used as a synchronous bootstrap FET. The amplifier can be set to operate in either differential or single-ended mode and includes the gate drivers, a 6.78MHz oscillator, and a separate heatsink for each Class-D section.

Quick Start Guides, containing set-up procedures, circuit diagram, bill of material and Gerber files for the boards are provided online.
View PDF