Features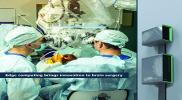 Edge Computing Leverages Modular Power in Scalable Micro Data Centres - May 2022
Edge computing is essential to realizing the full potential of artificial intelligence (AI), machine learning and internet of things (IoT). These technologies are being infused into every corner of...
More details...
Power Electronics Europe News
Regulated converter delivers Power over Ethernet at up to 240W
This compact single in-line package (SIP) module can power up to nine PoE devices at 25.5W from a 12V source, says Murata Europe. The SIP format saves board space and is claimed to optimise Pout capabilities in demanding applications. 

The converter is for PoE devices over traditional Cat 5 network cables in accordance with IEEE 802.3 PoE requirements. It operates in applications that support a 12V power source, converting 12 to 54V at 240W, to power and support multiple PoE devices.
Proprietary circuit architecture provides a 94% efficiency. The module provides PoE safety requirement that include input to output isolation at 2,250V DC with basic insulation, over-voltage protection that meets SELV requirements.
Thermal management allows 240W at 60°C in a compact package that requires 67.0 x 8.9mm board space.
With a Vin range of 10.5 to 13.2V, the module is suitable for resource-efficient, end-to-end information and communications technology ecosystems that use PoE devices, such as VoIP phones, IP cameras, wireless access points, IPTV decoders, network routers, network switches, network Intercoms, Industrial sensors, keyless access systems and lighting controllers.
View PDF