Features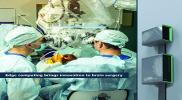 Edge Computing Leverages Modular Power in Scalable Micro Data Centres - May 2022
Edge computing is essential to realizing the full potential of artificial intelligence (AI), machine learning and internet of things (IoT). These technologies are being infused into every corner of...
More details...
Power Electronics Europe News
LDO regulators eliminate system noise for audio and medical
Target applications for the ADP176x and ADP715x LDOs include wireless basestations, wired communications, industrial instrumentation, high-end audio equipment, and medical devices.
They enable cleaner power rails, faster transient response, and higher power supply rejection ratio (PSRR) in noise-sensitive, precision analogue and RF applications, particularly when higher data rates are involved, says the company.

The company points out that higher data rates are driving the need for cleaner power rails to run sensitive semiconductor devices and that the issues intensify as speeds increase and geometries drop to 28nm and beyond. These two LDOs support a noise-sensitive applications including RF transceivers, voltage-controlled oscillators, phase-locked-loop synthesizers, clocks, and high-speed ADCs and DACs. They also reduce PCB size and cost by eliminating the need for additional passive components, including extra external filters and bypass capacitors.
The ADP176x series delivers up to 3A of output current and operates across an output voltage range of 0.5 to 1.5V. The ADP715x series supports an output range of 1.2 to 3.3V and delivers what is claimed to be industry leading noise performance of 1.6µVrms from 10Hz to 100kHz while expanding the output current range for less than 2µVrms (100Hz to 100kHz) from noise, up to 2A.
View PDF