Features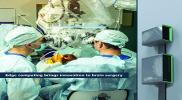 Edge Computing Leverages Modular Power in Scalable Micro Data Centres - May 2022
Edge computing is essential to realizing the full potential of artificial intelligence (AI), machine learning and internet of things (IoT). These technologies are being infused into every corner of...
More details...
Power Electronics Europe News
1200V SiC diode is for high-speed solar inverters
According to the company, its switching performance, reliability and low EMI make it suitable for applications required to be more energy efficient at higher power densities, such as solar inverters, industrial motor control and welders.
According to the company, the diode has the best leakage current performance in its class, leaking less current than its competitors at temperatures up to 175°C. It has extremely fast switching and no reverse recovery current, which dramatically reduces switching losses compared to silicon, says the company, and increases energy efficiency. Faster switching also allows manufacturers to reduce the size of a products' magnetic coils and associated passive components, which improves packaging efficiency, reduces system weight and can reduce bill-of-materials costs.
Other features are the ability to switch stably over a wide temperature range, and zero recovery voltage which eliminates voltage over-shoots.
The rugged diode exploits the breakdown field of SiC, which is 10 times higher than that of silicon and SiC's thermal conductivity, which is three times greater, says the company.
Fairchild will be at PCIM 2016: Hall 9 - 342
View PDF