Features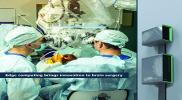 Edge Computing Leverages Modular Power in Scalable Micro Data Centres - May 2022
Edge computing is essential to realizing the full potential of artificial intelligence (AI), machine learning and internet of things (IoT). These technologies are being infused into every corner of...
More details...
Power Electronics Europe News
Sixth LED professional Symposium Expo (LpS)
The organisers are inviting abstracts on latest lighting trends and innovations for the chance to present them at the sixth international LED professional Symposium Expo (LpS) in Bregenz, Austria. The conference will take place from 20 to 22 September with a focus on 'Smart Technologies for Lighting Innovations'.
For the sixth year in a row, the LED professional Symposium Expo will turn the Festspielhaus Bregenz into a networking platform for more than 1,500 international decision makers in the areas of general, industrial and architectural lighting. Lectures interactive workshops and panel discussions will occur alongside an exhibition featuring over 100 international, solid-state lighting manufacturing, service and equipment companies.
Visit the event's website to submit original material covering one of the following topics: Lighting Innovations, Intelligent & Connected Lighting, Smart Technologies, Engineering & Design, Lifetime & Security, Costs and Manufacturing and Best Practice Approaches & Applications.
All submissions handed in by February 19th will be reviewed by an advisory board. Notifications of acceptance will be sent by May 13th. The best paper submitted by a universities, research organisations or institute will be honoured with the LED professional Scientific Award which includes a financial contribution of €3,000.

View PDF