Features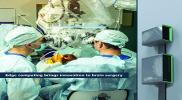 Edge Computing Leverages Modular Power in Scalable Micro Data Centres - May 2022
Edge computing is essential to realizing the full potential of artificial intelligence (AI), machine learning and internet of things (IoT). These technologies are being infused into every corner of...
More details...
Power Electronics Europe News
CV/CC flyback switching ICs improve mobile device charging
They incorporate a constant power output profile which, when paired with an adaptive-voltage protocol, such as Qualcomm Quick Charge 3.0, or USB-PD, permits smart mobile device makers to optimise charging time for mobile devices. The company points out that developers employing adaptive charging technology achieve dramatically faster charge times, improved charging efficiency and backward compatibility with the popular 5V USB BC 1.2 specification, while minimising overall thermal management and battery charging system cost.
The ICs use the company's FluxLink technology, which enables high-performance secondary-side control to be implemented with the simplicity and low component count usually associated with primary-side regulation. FluxLink technology also optimises the effectiveness of output synchronous rectification, resulting in high efficiency across the full load range. For example, no-load consumption at 230V AC is less than 10mW, while full-load efficiency exceeds 90%. InnoSwitch-CP devices meet all global energy efficiency regulations, confirms the company.

The voltage and current required for optimal fast charging of the battery is dependent on factors such as battery size, chemistry charge level and the thermal environment. By providing a constant power output, InnoSwitch-CP allows battery-operated devices to draw up to the maximum power of the charger at any selected output voltage, optimising charge time and cost, says the company. As a result, OEMs can offer consumers shorter charge times and increased device availability, while simplifying the accessory supply chain.

Advanced protection features include over-voltage, output over-current with 3V auto restart; hysteretic thermal shutdown and line input over-voltage protection with brown-in / brown-out thresholds. Devices are compliant with safety and regulatory standards, including 100% production HIPOT compliance testing equivalent to 6kV DC/1 sec; reinforced insulation; and isolation voltage testing to above 3,500V AC.
Two devices are available. The INN2214K IC delivers 15W output power for universal voltage chargers and adapters, while the larger INN2215K part delivers up to 22 W for similar applications. They are UL1577 and TUV (EN60950) safety approved and EN61000-4-8 (100 A/m) and EN61000-4-9 (1000 A/m) compliant.
View PDF