Features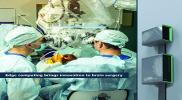 Edge Computing Leverages Modular Power in Scalable Micro Data Centres - May 2022
Edge computing is essential to realizing the full potential of artificial intelligence (AI), machine learning and internet of things (IoT). These technologies are being infused into every corner of...
More details...
Power Electronics Europe News
DC/DC converters target powers sensors and industrial applications with enhanced isolation
The converters have a higher isolation voltage of 6.4kV compared to standard 3kV and 4kV models.
The H6 variants with enhanced isolation operate over an extended temperature range of -40 to 90°C without derating. They are suitable for high-isolation test and measurement applications, telecomms equipment, demanding industrial environments, or isolated power for sensors.
The RK series are single-output converters and the RH series provides dual-outputs. A range of configurations are available for operation from 5.0, 12, 15 or 24V input voltage, with standard output voltages from 3.3 to 15V (RK) or ±3.3 to ±15V (RH). All models have a built-in EN 55022 class-A EMI filter and continuous short-circuit protection.
The converters are in stock at distributor, Dengrove and offer high output-voltage accuracy, tight line and load regulation, high efficiency, and low output ripple and noise. They meet international safety standards, and carry a three-year manufacturer's guarantee.
View PDF