Features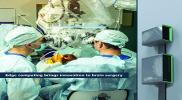 Edge Computing Leverages Modular Power in Scalable Micro Data Centres - May 2022
Edge computing is essential to realizing the full potential of artificial intelligence (AI), machine learning and internet of things (IoT). These technologies are being infused into every corner of...
More details...
Power Electronics Europe News
FET delivers low-cost wireless charging
The EPC2037 enhancement-mode gallium nitride power transistors (eGaN FETs) are packaged in a 0.9 x 0.9 mm package. The 100VDS, 1A device has a maximum RDS(on) of 550mΩ with 5V applied to the gate. The GaN transistor has high switching frequency, low RDS(on), and what the company says is exceptionally low QG. It is designed to be driven directly from a digital logic IC, eliminating the need for a separate and costly driver IC.
According to the company, the FET is smaller and with superior switching performance compared with a power MOSFET with similar on-resistance.
As well as wireless charging, the FET can be used in high frequency DC/DC conversion, LiDAR/pulsed power, and class-D audio amplifiers.
A development board, the EPC9051 is available to support in-circuit performance evaluation.
View PDF