Features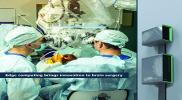 Edge Computing Leverages Modular Power in Scalable Micro Data Centres - May 2022
Edge computing is essential to realizing the full potential of artificial intelligence (AI), machine learning and internet of things (IoT). These technologies are being infused into every corner of...
More details...
Power Electronics Europe News
Inverter fuel energy storage supports EV rapid charging
A project to create a modular energy storage system that reduces the barriers to installing electric vehicle rapid chargers has been announced. Connected Energy and its partners set about creating the E-Stor range of energy storage systems.
Spearheaded by Future Transport Systems and its subsidiary Connected Energy, it uses Parker Hannifin inverter technology and involves a European automotive OEM giant, Renault, and Ricardo, a global strategic, technical and environmental consultancy.
Rapid charging is one of the main factors able to stimulate the increased uptake of electric vehicles. However, as recharging rates increase and clusters of systems are installed to meet growing demand, the development constraint is becoming the local electricity supply network.
The modular, self-contained, expandable and portable devices address the issues associated with the need to upgrade site electricity networks when installing plug-in vehicle rapid charging infrastructure. As a remotely managed solution, E-Stor offers a potentially quicker, lower cost and more flexible alternative to network infrastructure upgrades, along with a range of additional commercial and integration benefits, says Parker.
Utilising proven Li-ion, 2nd life automotive battery technology, high efficiency power conversion and monitoring systems, the E-Stor 50 and E-Stor 100 models, are the first products in the range. Supplied typically as a 50kW/50kWh nominal rated module, the integral management system optimises energy storage in relation to complementary assets and parameters in real-time. It provides detailed technical and operational reporting, along with remote site management, monitoring and control. It can also be configured as part of a wider portfolio of assets and integrated with existing building management systems.
The system comprises modular batteries and integral battery management systems, bi-directional battery charger, isolation transformer, power control module, AC/DC protection, HMI, router and communication interface. It is delivered pre-assembled directly to site and requires a minimum of preparation.
View PDF