Features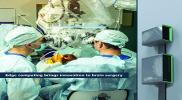 Edge Computing Leverages Modular Power in Scalable Micro Data Centres - May 2022
Edge computing is essential to realizing the full potential of artificial intelligence (AI), machine learning and internet of things (IoT). These technologies are being infused into every corner of...
More details...
Power Electronics Europe News
Plug-in DC module pair protect medical systems
The Reactive Load powerMod series of plug-in DC output modules are optimised for driving DC motors and other reactive loads. Backed by a five-year warranty, the XgR and XgT powerMods provide protection where loads can generate high levels of reverse energy, such as in industrial and medical applications.
Frequently, 24 and 48V rails are used to power pumps, motors, fans, compressors, capacitor banks, batteries, or combinations of inductive and capacitive loads, in complex systems. These modules operate in harsh conditions, while offering forward and backward compatibility of the company's UltiMod, Xgen, and XF platforms.
The modules come equipped with a built-in OR-ing function and an anti-reversal diode. The OR-ing circuit uses a MOSFET to maintain high efficiency and offers N 1 redundancy when the powerMods are used in parallel operation. The anti-reversal diode across the output, which is rated for the full current of the module, offers increased ruggedness when the modules are used in reactive load applications.
Output voltages are from 8.0 to 58V. User-configurable functions include local and remote output voltage adjustment; adjustable current limit; dynamic voltage trim/adjust, alternative current-limiting techniques; and inhibit/enable functions. The modules can be connected in series or parallel, enabling them to achieve compliance with all voltage/current requirements.
Dual safety approvals (UL/EN60950 2nd edition and UL/EN60601-1 3rd edition) and -40°C start-up temperature are available. Standard features for medical applications include leakage current (300 and 150µA), 2 MOPP (means of patient protection), and 4kV isolation. They also include over-voltage, over-temperature and over-current protection,MIL-STD-810G compliance with shock and vibration. All offer efficiency (up to 92%) and are SEMI F47-compliant.
Typical applications include medical (e.g., clinical diagnostic equipment, medical lasers, dialysis equipment, radiological imaging, and clinical chemistry) and industrial (e.g., test and measurement, industrial machines, automation equipment, printing, telecommunications, audio equipment, harsh industrial electronics, hi-rel/MIL COTS and radar).
View PDF