Features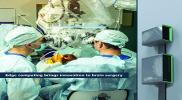 Edge Computing Leverages Modular Power in Scalable Micro Data Centres - May 2022
Edge computing is essential to realizing the full potential of artificial intelligence (AI), machine learning and internet of things (IoT). These technologies are being infused into every corner of...
More details...
Power Electronics Europe News
Regulator offers shareable digital interface for supervision
The digital interface enables system designers and remote operators to command and supervise a system's power condition and consumption.
T
he regulator has 70ms power-up time, 8ms ADC

telemetry

update rate and 400kHz PMBus-compliant I2C serial interface for

quick system boot time and fast data collection of power in applications with maximum power-up time requirements such as

PCIe-based platforms. They can therefore be used in optical transport systems, datacomms and telecomms switches and routers, industrial test equipment, robotics, and RAID and enterprise systems where cooling and maintenance are critical and must be continuously measured.
The LTM4676A is comprised of EEPROM, power MOSFETs, inductors and supporting components. It has fast, dual analogue control loops, precision mixed signal circuitry and is housed in a 16 x 16 x 5.01mm BGA package.
It operates from a 4.5 to 17V input supply and steps down VIN to two outputs ranging from 0.5 up to 5.4V. The dual channel device can current share to provide up to 26A (i.e., 13A 13A as one output). As many as four LTM4676A devices can be multi-phased to share current up to 100A output.

The company offers the LTpowerPlay GUI, USB-to-PMBus converter and demo kit (DC1811B-KIT) to evaluate performance.
Internal operating temperature range is from –40 to 125°C.
View PDF