Features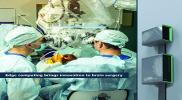 Edge Computing Leverages Modular Power in Scalable Micro Data Centres - May 2022
Edge computing is essential to realizing the full potential of artificial intelligence (AI), machine learning and internet of things (IoT). These technologies are being infused into every corner of...
More details...
Power Electronics Europe News
Luger Research announces LpS 2015 Conference Programme
The annual symposium and exhibition for LED & OLED lighting technologies, celebrates its fifth anniversary when it takes place from 22 to 24 September.
Developments in the fields of Human Centric Lighting and the Internet of Things keep the change process in the lighting industry going. Lighting systems, and therefore components and modules, need to be more efficient for less cost. Controls have to be smarter and systems need to be connected and more intelligent. "We believe that lighting technologies will drive innovations and therefore a highly-focused technology event is required to understand and forecast next generation lighting systems", said Siegfried Luger, LpS 2015 event director and programme manager.
Opening on 22 September with keynotes from Professor Zary Segall – endowed chair professor at The Royal Institute of Technology (KTH) in Stockholm, Mr. Rogier Van der Heide – chief design and marketing officer, Zumtobel Group and Mr. Jy Bhardwaj – senior vice president R&D, Lumileds, there will be tree parallel tracks of technical lectures and workshops addressing light sources, smart controls and drivers, optics, light quality, light mixing, connectivity, security, reliability and lifetime, standardisation, light measurement, production and lighting systems.
Smart lighting comprises scheduled control, presence control and daylight harvesting control. This is necessary to achieve a reasonable carbon footprint. It is known that savings with smart controls versus manual switching is approximately between 50-75%. One of the technical lectures will be from Dr. Walter Werner from Werner Management Consulting about "Why We Need Smarter Smart Lighting". Dr. Werner states that there are two big potential ways to make smart lighting smarter: One is to get the users of the space to provide their input. The other is to get the background technology smart and use it to drive smart innovations by replacing the dedicated lighting controls communication by an open Internet connection that allows increased granular functionality, to be deployed and to be serviced with reasonable effort.
Dr. Geoff Archenhold – Serenity Lighting, will talk about intelligent methods to secure connected lighting and smart city installations. In his presentation he will describe the main types of weaknesses and vulnerabilities found in wired and wireless lighting control systems and present and evaluate an approach that provides an additional level of security to the often relied upon wireless router username and password encryption security. He will also address threats of smart lighting, how to specify secure Smart Lighting Control Systems and hope to spot if they are unsecure as well as how to design a secure and scalable lighting system.
View PDF