Features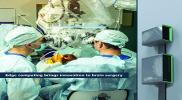 Edge Computing Leverages Modular Power in Scalable Micro Data Centres - May 2022
Edge computing is essential to realizing the full potential of artificial intelligence (AI), machine learning and internet of things (IoT). These technologies are being infused into every corner of...
More details...
Power Electronics Europe News
Cree Power & RF named Wolfspeed
Cree Power Goes IPO as Wolfspeed
In May Cree announced that they would be separating the Power and RF business into a standalone company, now this business unit has been named "Wolfspeed".
CREE, a leader in Silicon Carbide (SiC) power products and gallium nitride (GaN) radio frequency (RF) devices, announced on September 1 that Wolfspeed is the new name for the Power and RF division. The company announced in May that it would separate the business into a standalone company. Founded upon the mission to liberate power and wireless systems from the limitations of silicon, Wolfspeed enters the marketplace as a well-established, entrepreneurial growth company with a focused team, a profitable business and more than 28 years of industry-leading wide bandgap semiconductor technology and experience. The new name combines important elements of Cree's culture and expertise and allows the Power and RF division to build brand equity while operating as a separate business. As a Cree Company, Wolfspeed will leverage Cree's industry-leading brand, global footprint, scale and expertise to ensure a smooth transition for customers.
"Today, Wolfspeed is providing our customers and our team with a first look at our new company's name, brand identity and purpose in advance of our IPO, which we plan to execute during fiscal year 2016," said Frank Plastina, chief executive officer, Wolfspeed. "We're building something new on the firm foundation that is Cree," Plastina added, "and we want to share our vision, plans and enthusiasm with all of our stakeholders as we move seamlessly through the transition."
For fiscal year 2015 ended June, Cree reported revenue of , which represents a 1% decrease compared to revenue of for fiscal 2014. "Fiscal 2015 was a year of good progress in our Lighting and Power and RF businesses, mixed with challenges in the LED industry," stated Chuck Swoboda, Cree Chairman and CEO. "The actions we took in Q4 to restructure our LED business position us for solid revenue growth and margin expansion in fiscal 2016, driven by the strength of our commercial lighting business." And in July the company acquired APEI, a manfacturer of power modules. Combining two highly complementary innovators, the acquisition enables Wolfspeed to extend its leadership position and help to accelerate the market for high-performance, best-in-class SiC power modules.