Features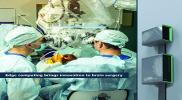 Edge Computing Leverages Modular Power in Scalable Micro Data Centres - May 2022
Edge computing is essential to realizing the full potential of artificial intelligence (AI), machine learning and internet of things (IoT). These technologies are being infused into every corner of...
More details...
Power Electronics Europe News
The company offers a kit comprising the S6AE101A PMIC, the first device in the family, the EZ-BLE PRoC module for Bluetooth Low Energy connectivity, and supporting software.
According to the company, the PMICs are the world's lowest-power, single-chip energy harvesting PMICs, and can be used with solar cells as small as 10mm². The integrated ICs are suitable for batteryless wireless sensor nodes (WSNs) that monitor physical and environmental conditions for smart homes, commercial buildings, factories, infrastructure and agriculture.

Start-up power for the PMICs is 1.2uW, or four times lower than the nearest competitor, claims the company; consumption current is just 250nA. The small-form-factor EZ-BLE PRoC module is based on the company's PRoC BLE Programmable Radio-on-Chip and works with the PMIC for an energy harvesting system.

The S6AE101A is sampling now, with production expected in Q4. The Solar-Powered IoT Device Kit contains a baseboard with a solar module and a Bluetooth Low Energy-USB bridge. Easy DesignSim, the free, web-based simulation tool can be used to validate energy harvesting system designs, including the bill-of-materials, schematic and the power consumed by the sensing, processing and communications functions of a target application.


View PDF