Features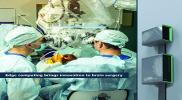 Edge Computing Leverages Modular Power in Scalable Micro Data Centres - May 2022
Edge computing is essential to realizing the full potential of artificial intelligence (AI), machine learning and internet of things (IoT). These technologies are being infused into every corner of...
More details...
Power Electronics Europe News
Low power AC/DC power supplies operate in the lowest temperatures
The RAC02-SE/277 and RAC03-SE/277 low-power modules have rated outputs of 2.0 or 3W respectively; the 2W module is offered with cables.
The compact modules are just 18mm high and accommodate a wide input power range of 85 to 305V AC (120 to 430V DC) with output voltages of 3.3, 5.0, 12 and 24V DC. When idle, the modules consume a maximum of 40mW, making them suitable for sensors and standby equipment. The insulation strength between the input and the output is 3kV AC/min. The modules are available as DIP units with standard pinout or as wired units.
An integrated input filter allows the modules to conform to the requirements of EN55022 Class B. They can be operated without the need for additional external components and are short-circuit-proof with automatic restart after fault elimination. They are also certified to IEC/EN/UL 60950 and have a three-year warranty.
View PDF