Features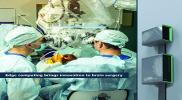 Edge Computing Leverages Modular Power in Scalable Micro Data Centres - May 2022
Edge computing is essential to realizing the full potential of artificial intelligence (AI), machine learning and internet of things (IoT). These technologies are being infused into every corner of...
More details...
Power Electronics Europe News
Transphorm claims industry's first 600V GaN transistor
It offers 63mΩ R(on) and 34A ratings and uses the company&rs source-tab connection design to reduce EMI at high dv/dt. This enables low switching loss and high-speed operation in power supply and inverter applications.
The device achieves an R(on) increase under switching of only 5% at 400V, compared to other competitively rated devices with an almost 90% increase, claims the company.
View PDF